Safety Protocols Ignored When Fluoride Delivered Via Faucets
When deciding whether an infant should be prescribed a maximum daily dose of 0.25 mg of fluoride in a supplement, the American Dental Association (ADA) Council of Scientific Affairs says:
Healthcare providers should consider the "individual patient's needs and preferences" before making a "judicious prescription" of dietary fluoride supplements.
ADA stresses the importance of "developing a personalized prevention plan":
"It also is critical that the dentist assess a child's total fluoride exposure from all sources (beverages, food, toothpaste, supplements, topical applications and so forth)."
While this protocol is probably rarely followed, it is obviously ignored in fluoridated cities where children should swallow uncontrolled amounts of fluoride in tap drinking water. No longer an individual, that child is now part of a vast herd. (Did somebody say, mass medication?)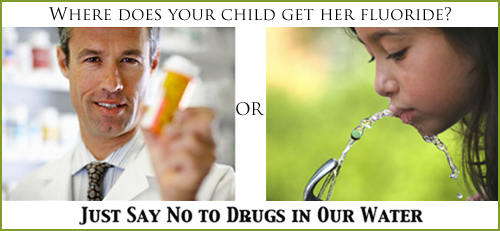 No doses of fluoride from supplements are allowed in the months after birth, but high doses of fluoride from water are encouraged in the months before birth.