Known About Fluoride
Upper Intake Level
Toothpaste Warning
Interferes with Brain
Fetal Vulnerability
Neurotoxicity
Needs to Be Known
Amniotic Fluid
Crazy Advice
Fluoride Drugs
Pharmacy or Faucet?
Premature Birth
Infant Mortality
Life Decay
Fluoridation 'Science'
Endorsementality
Bogus Sales Pitch
CDC's Irrationale
EPA's Pollutant
PHS's Debunkery
The US Food & Drug Administration (FDA) ignores fetal fluoride exposure,
but its fluoride toothpaste warning indicates that babies in the womb
can be at risk when their mother drinks fluoridated tap water.
With every 3 cups of fluoridated tap water a mother drinks,
her unborn child receives about 0.3 milligrams of fluoride.

This is over the dose of fluoride in a pea-sized dab of toothpaste
that the FDA warns can be poisonous if swallowed by a 5-year-old.
FDA Confirms Ineffectiveness of Fluoridated Water
After reviewing the best available evidence,
FDA would only allow this very weak
Health Claim for Fluoridated Water:

"Drinking fluoridated water may reduce the risk of tooth decay."

OMG! The chance of getting a cavity might be reduced.

The same can be said for drinking clean water.
Fetal Abuse
Intentionally adding an EPA-designated "developmental neurotoxicant" to the drinking water that pregnant women are encouraged to drink is "domestic violence," something America's Founders provided a Constitutional remedy for – in the same clause that protects us from "invasion." (Imagine our response if the dubious fluoridation chemicals we import from China were added to our drinking water by the Chinese government!)
Where does your child get her fluoride?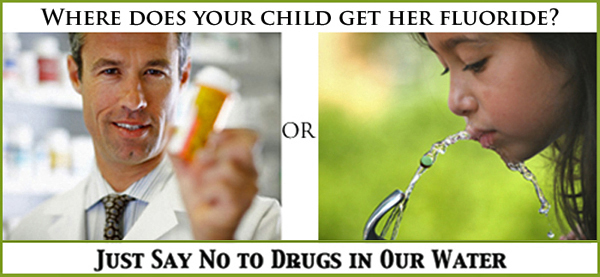 Pharmacy or Faucet?