Pregnancy and Fluoride Do Not Mix
When a pregnant woman consumes fluoride, so does her baby.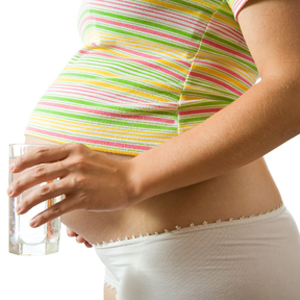 In fluoridated cities, an unborn child's daily intake level of fluoride is comparable to that of a 5-year old who swallows 3 times the amount of fluoride toothpaste the FDA warns parents to: "Get medical help or contact a Poison Control Center right away."
When a mother drinks her recommended 8 cups of fluoridated water, her baby's intake level of fluoride is comparable to what the Institute of Medicine said would be its Tolerable Upper Intake Level.
National Research Council (2006): Fluoride has the ability to "interfere with the functions of the brain and the body by direct and indirect means."
EPA Neurotoxicology Division (2009): A team of researchers found substantial evidence that fluoride is a "developmental neurotoxicant" in the same category with alcohol, arsenic, bisphenol A, lead, mercury, and nicotine.
National Scientific Council on the Developing Child (2009): It's not just about dose. Most important is "the timing during the developmental process... The immature nervous system of an embryo or fetus is even more vulnerable to toxic exposures than is that of an infant."
Inform and hold accountable those responsible for adding fluoride to your drinking water. Ignorance is no longer an excuse, nor is deference to unscientific endorsements from health organizations that ignore fetal fluoride exposure.

To knowingly, needlessly, and continually expose babies in the womb to increased levels of a developmental neurotoxin is unforgivable, especially now that there's further proof prenatal fluoride exposure is associated with lower IQs, as confirmed by a major study funded by the National Institutes of Health.
Pregnancy and Fluoride Do Not Mix
Validating known and growing safety concerns, the recent and diverse scientific evidence presented in this well-documented volume (300 references, mostly PubMed) details the numerous biological, laboratory, and ecological links between prenatal fluoride exposure and adverse pregnancy outcomes – compelling reasons for women of child-bearing age to avoid consumption of fluoride in tap water, as well in beverages made in fluoridated cities.
Four years in the making, this concise volume (94 pages) includes three in-depth reports published by the Townsend Letter: The Examiner of Alternative Medicine.
94 pages • Paperback: 5.25 x 8" • $9.95

Available on Amazon

Table of Contents (more than 50 subheads)
Thumbs Up review from the Weston A. Price Foundation:


"Peace begins in the womb. The newborn reflects this truth. Order is transferred from cell to tissue, to organs, to organisms, to families, communities, and nations. Unfortunately, when development is violated in the womb... the social and economic impacts are incalculable."
– Theo Colborn
author of Our Stolen Future

Book's back cover illustration courtesy of Sheng Yi Lee (©2015)